RED WORKS ADDRESS & OPENING HOURS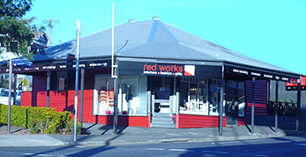 07 3876 4288
156 Given Terrace, Paddington, Brisbane
sales@redworks.com.au
Red Works is conveniently located at:
156 Given Terrace
PADDINGTON. Brisbane.
Queensland. 4064
Australia
Unmissable in the red building on the intersection of Given Terrace and Castlemaine Streets, right next to Suncorp Stadium.
The best Parking for the shop is in Hall Street at the back of the shop. This is a 2 hour parking zone and there is always parking on either side of the street.
Opening Hours:
Monday - Friday 9.30am - 5.00pm
Saturday 10.00am - 3.00pm