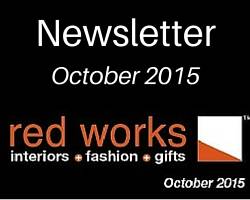 We trust that 2015 has been as wonderful for you as it has been for us. The past few months since our last newsletter have been quite hectic for us, helping you to create luxury in your homes, recovering your furniture and windows, sourcing fabulous new shop stock for Christmas, filling the shop with sensational new Mela Purdie, handbags, hats and jewellery, homewares and gifts, and working on a very special project with Youngcare that you can read about later in the newsletter.
Our lucky 13th Birthday is nearly here and of course we are planning a celebration – a Week of celebrations in fact! You and your friends are invited to come along and help us celebrate, and, although it is our birthday, we will be giving you the presents, with a fabulous prize pool of gifts worth over $ 2000 to be drawn at the end of our Birthday week, as well as gifts with purchase for you, and donations to charity ! We do hope to see you there.
You are always welcome at Red Works and Karla and the Red Works team look forward to seeing you in store soon.
You can view our latest Newsletter Here

Redworks Newsletter Oct 2015.pdf